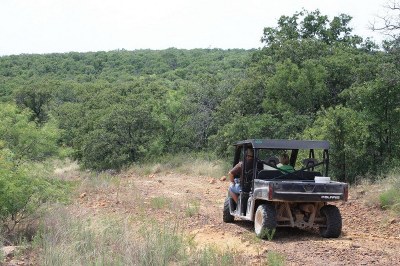 The Hatton Ranch is located in Young County near Graham, Texas. The ranch is family owned and operated. As good stewards of the land, we manage both range and wildlife conservatively. There is a wide variety of brush species, many being a premium browse for whitetail. We are under an intensive management program. Working closely with a professional wildlife biologist, deer quality has consistently improved. A year-round supplemental protein feeding program is in place and the results have been impressive. Dense brush and large drainages provide excellent cover and habitat.
Hunting styles differ. Most hunting is done from stationary hunting blinds over looking travel areas or food plots. During the rut rattling can be very effective. Predator hunting has been successful with the use of predator calls and there is also plenty of spotting and stalking. Having so many different hunting options makes your hunting experience fun, adventurous and successful.
We have two comfortable hunting cabins which are fully equipped for your convenience. Local processing and taxidermy are available if desired. The closest commercial airport is Dallas Fort Worth International. It is an easy drive to our hunting ranch. Hunting licenses can be purchased locally if necessary.
Any last minute items, including your Texas hunting license, can be purchased at our new Super Walmart.
Please come join us for a great hunting experience, an abundance of high quality game and excellent hospitality.